How to Influence Policymakers in California

Hosted by SF Bay PSR
San Francisco Bay Physicians for Social Responsibility (S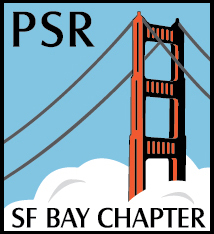 FBPSR) believes equitable, fair, and just public policy is key to creating a healthy society. We also believe community members, public health professionals, scientists, and clinicians working together are essential to achieving this. And one of the best ways to strengthen and build communities capacities is by investing in the development of emerging leaders.
SF Bay PSR is proud to present a two-part advocacy training series to build the skills of all who want to advocate for California legislation that will better serve our communities. All are welcome!
The video link will be sent to all registrants prior to each workshop. We strongly encourage you to attend both workshops. However, we will also send everyone a link to the video recordings once each workshop is complete.
These workshops are Online and FREE!
Thursday, August 18, 6:00pm-8:00pm PT: How a Bill Becomes a Law
Understanding how a bill becomes a law in California is essential to successful policy advocacy. In this workshop, advocates will learn about deadlines for bill introduction and throughout the legislative process; how bills are assigned to committees; and when advocacy is needed before, during, and after bill hearings for passage a bill. You'll also learn about the state budget process including timing for when and how to have impact.
Thursday, September 1, 6:00pm-8:00pm PT: How to Communicate with Policy Makers
Creating political will and building public support for a policy proposal includes presenting your position in a way that engages the individuals or groups you are trying to persuade. Depending on the type of policy proposal you are advocating for, you will need a variety of different policy advocacy materials, including fact sheets and policy briefs. And it is important to understand how to craft these documents for policy advocacy. This workshop will help you understand how to craft your own message when you are speaking briefly to a policy maker or sending an email or letter in support of a bill.